September 21, 2023: Future Scenario Workshop in Kirkenes, Norway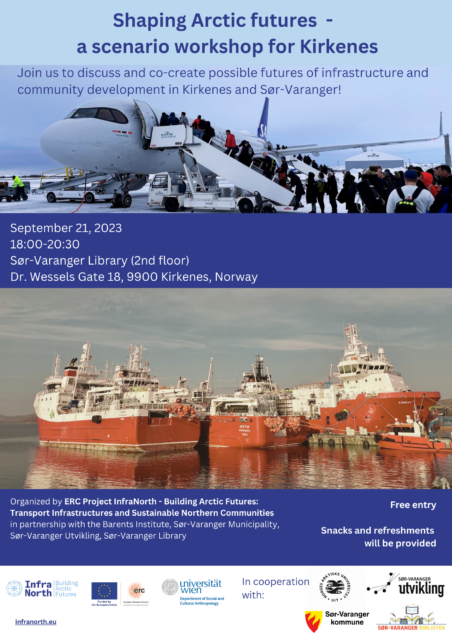 InfraNorth's 2nd future scenario workshop is organized in partnership with the Barents Institute, Sør-Varanger Municipality Sør-Varanger Utvikling and Sør-Varanger Library
Join us to discuss and co-create possible futures of infrastructure and community development in Kirkenes and Sør-Varanger!
The KIRKENES SCENARIO WORKSHOP is a free and open event, hosted by the project InfraNorth in collaboration with local groups and artists. We'll delve into four future scenarios for Kirkenes and Sør-Varanger Municipality, created using current trends and expert opinions. Together, we'll discuss these scenarios and what they mean for the town and its people. There will be coffee and cake. Welcome!
WHEN? Thursday, September 21., 18:00-20:30
WHERE? Sør-Varanger Bibliotek, Dr. Wessels gate 18
FOR WHOM? Everyone with an interest in the Kirkenes region and its future development!