blog post
November 30, 2022
Moving Mountains to Ship Iron: Transportation Hierarchies in the Scandinavian Arctic
Iron ore is fundamental to modernity from scales microscopic to monumental. Embedded within the glittery makeup we wear, the cell phones we carry, the bridges we cross, and the railways we ride, the ferrous mineral is a vital component to an infinite number of products. With the world population now over 8 billion people, demand for iron ore continues to rise: having recovered following the COVID-19 pandemic, the compound annual growth rate for iron ore is estimated to be 3.7% through 2026. Demand for iron ore will continue to grow even as many high-income economies work towards a "green transition" since more of the mineral will be needed to build windmills, electric cars, and railway infrastructure. In fact, 98% of mined iron ore is used in steel production, which is found in the tiniest of screws to the tallest of skyscrapers.
But how does the iron ore actually make its way from the depths of the Earth to our everyday lives? Last summer we – an anthropologist and a human geographer – followed the trails up, out, and away from the largest underground iron ore mine in the world. Operated by Swedish state-owned company LKAB, the mine is located in the Swedish Arctic town of Kiruna (pop. 18,000). It is connected via the Malmbanan railway to LKAB's ice-free port in the Norwegian town of Narvik (pop. 14,000), on the Ofoten fjord leading out to the Norwegian Sea. What began as an open pit mine in 1890 in Kirunavaara, an area with 6000 years of Sámi inhabitation, now reaches a depth of 2 km.
As the ore body still stretches another 2 km below ground, the old town centre is being relocated to allow for further excavation, which will destabilize everything above it. Areas already suffering from cracks have been stripped bare of their houses and turned into grassy, tree-lined parks and, surprisingly, skateparks. As much as a third of the town needs to move in the next years to a newly built area 4 km away, whose glimmering white and gold buildings resemble a mash-up between Stockholm and Dubai. On a midnight sunlit July evening, we took an elevator to the top-floor bar at the newly built Scandic hotel, whose floor-to-ceiling glass windows offer a panorama over the mining operations. Enjoying the libations were mostly men in coveralls, Finnish tourists, and foreign students.
Among Kiruna's residents, many of whom work for or in jobs related to the mine, there seems to be a common understanding that moving people and buildings is inevitable for the city not only to survive but to thrive. The iron ore business is so profitable that LKAB can afford to relocate the town at a cost of $1 billion and pay architects, city planners, engineers, and builders to create a new centre. Even the wooden church built between 1909 and 1912 will be moved all at once in fall 2026. Before that can happen, roads wide enough to fit the church are being built, continuing the century-long process of paving over the tundra to support the extraction of iron ore from beneath it.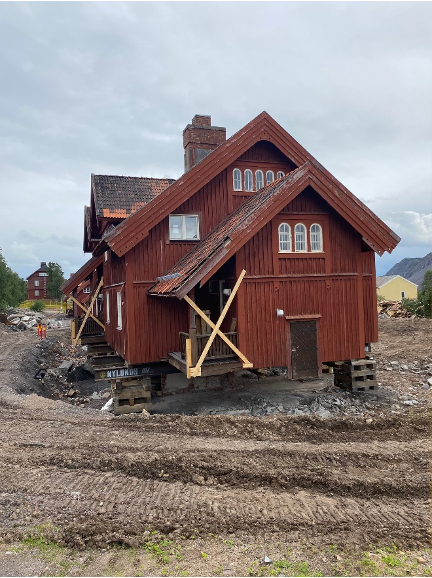 While people are relocating their houses, businesses, and places of worship bit by bit, up to 17 trains 750 m in length, each consisting of 68 wagons and steered by the world's most powerful locomotive engines, operate daily on the route between Kiruna and Narvik. Two-thirds of LKAB's production is exported via Narvik, while the rest makes its way out by rail to the south. These heavy trains loaded with marble-sized iron ore pellets have priority on the single-track railway. On this very same railway, passenger trains operate one to three times per day all year round. Mostly used by tourists traveling to popular hiking areas around Abisko or all the way to Narvik, the train winds through picturesque Arctic landscapes used by Sámi to herd their reindeer. According to the timetable, it takes approximately three hours to travel from Kiruna to Narvik. Since iron ore freight is prioritized, however, delays are common along the entirety of the Malmbanen, which stretches all the way to Luleå where LKAB operates a smaller port on the Gulf of Bothnia.
Once the iron ore arrives to the port of Narvik, it takes several days to transfer the mineral to a cargo ship. In the otherwise quiet town, the groaning and clanking of pellets on metal can be heard all the way on top of the nearly 800 m mountain towering over Narvik. In winter, skiers careening down its snowy slopes have a sublime view over the rusty docks. Residents recounted how during the loading process, the city sometimes gets covered in pink dust, leaving the town hoping for wind and rain to clear the air. Once laden, the iron ore starts its journey to places like Svalbard, continental Europe, the UK, Middle East, Turkey, and the east coast of North America. To support the expansion of exports, LKAB is investing SEK 500 million (US$48 million) in a new shiploader, which will be operational in summer 2024.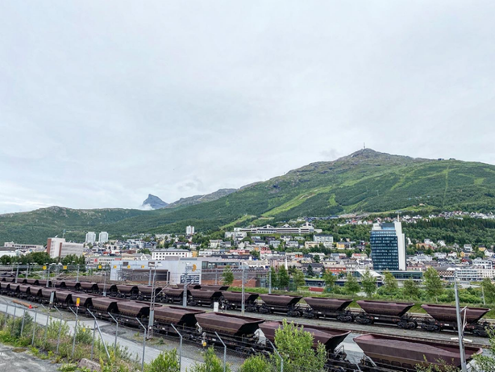 It is obvious that the train is a vital corridor for the iron ore, but does it serve a similar purpose for locals? In other words, is the railroad also a residential lifeline? At first glance, it may seem that communities along the iron ore line are well-connected. Our conversations with locals, however, revealed that the Malmbanen does not satisfy their needs.
One of our interlocutors in Narvik joked, "Well, the train line only goes to Sweden." Their quip exemplifies how transport infrastructure routes do not accord with people's networks, which are often nationally circumscribed. Several individuals in Narvik felt disconnected from the rest of Norway, as no railway extends to rest of the country's network in the south. Private cars are thus perceived as the most effective mode of transportation.
While public transit does exist in the form of local and long-distance buses, when one of us took a bus from Narvik to Tromsø, it was mostly filled with students and ethnic minorities. Air travel is often the most convenient option despite the rise of flygskam, or flight shaming, a topic frequently addressed across the Nordic states. Narvik's main airport at Evenes-Harstad, however, is close to an hour away by car, compared to the 15 minutes between the center of Kiruna and its airport. Residents of the Norwegian town thus can feel poorly connected despite tankers with names like Bulk Ginza and Mineral Subic calling regularly at the port. Cruise ships sail up and down the Ofotfjord to Narvik, too. In fact, the tourism business with cruise ships is booming and the northern ports are dealing with accommodating an increasing number of cruise ships, bringing masses of visitors from across the globe to Arctic communities. In contrast to these well-oiled circuits of global commodities and cruise passengers, parcels struggle to arrive. One young woman complained, "If you order something over the internet it can take up to a month for it to arrive in Narvik. This is one of the last corners of Norway."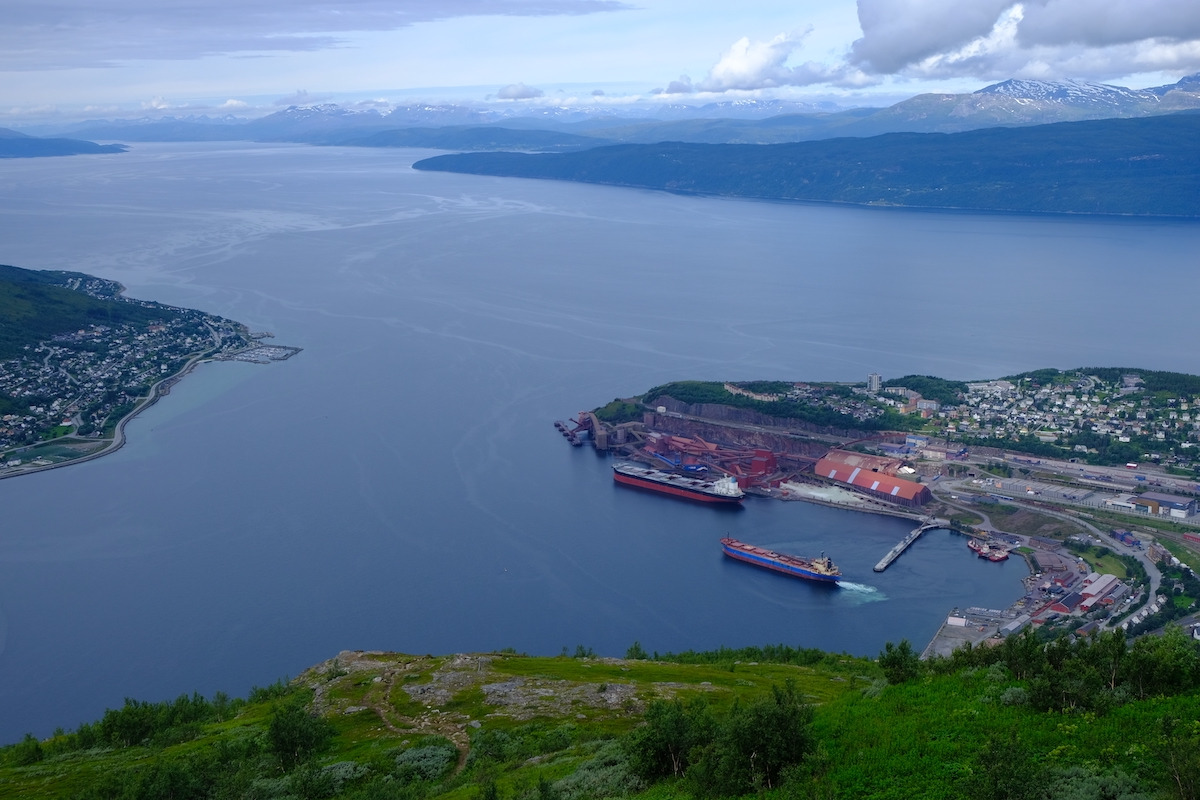 Residents of northern Swedish communities vividly recounted their experiences with sold-out, delayed, or cancelled trains and their mistrust of timetables. A strike in the summer of 2022 by Scandinavian Airlines, the only airline that serves Kiruna, led to further transportation nightmares. In contrast, the movement of iron ore is much less frequently disrupted. LKAB trains will run in severe weather, while passenger trains will be cancelled entirely. The difference is that rescuing two locomotive engineers, who are trained and equipped to handle adverse scenarios, is far easier than rescuing hundreds of passengers from rough terrain in temperatures nearing -40°C. When an LKAB train does derail, the whole line is closed until the accident has been cleared. In November 2021, one such derailment cost LKAB SEK 100 million (US$9.6 million) and delayed seven tankers. Such accidents reveal the fragility of relying on a single line and inevitably spur discussions about building a second rail. Doing so, however, would further impact the environment and likely the Sami people, whose reindeer risk being hit by trains.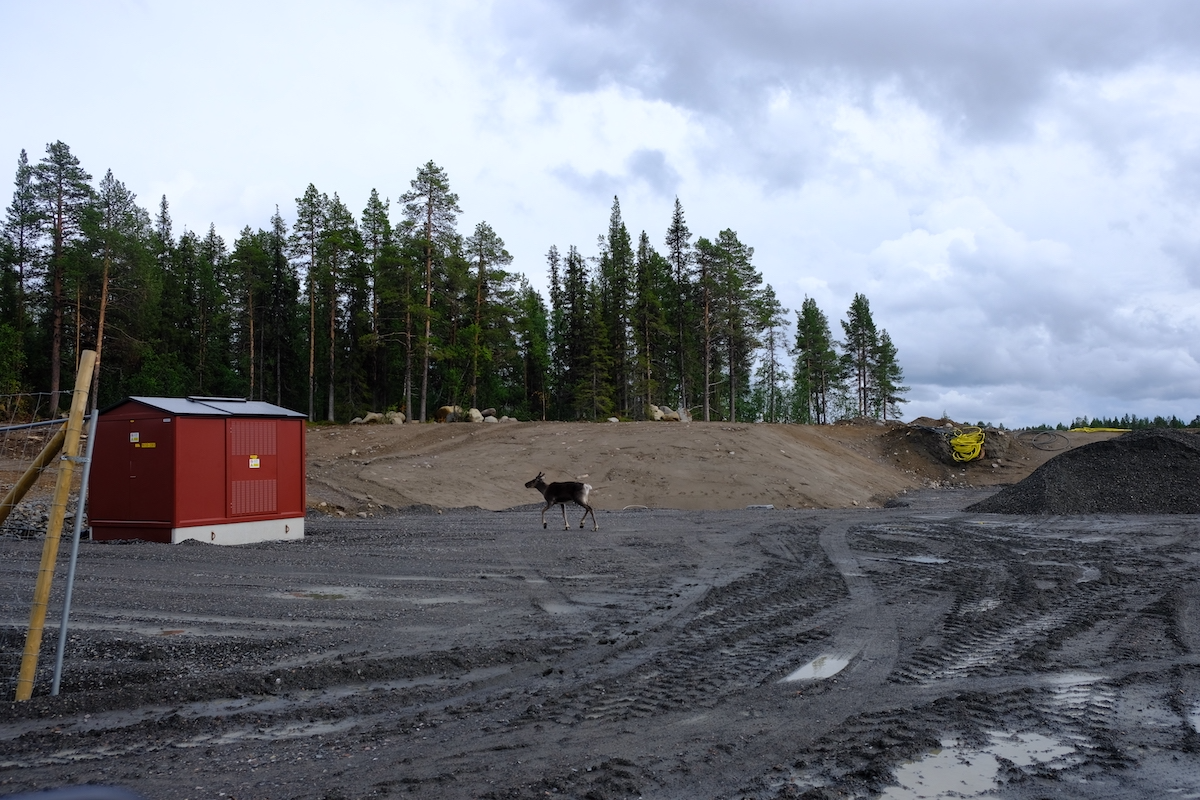 Railways and ice-free ports allow iron ore to move seamlessly from 2 km underground out to sea to destinations in Europe and beyond. Yet this transportation infrastructure offers little mobility to people in Kiruna and Narvik, even though it supports jobs and local and regional economies. The lines of metal across the landscape have also disrupted thousands of years of reindeer migration. This practice, however, has adapted for the 21st century, for Sámi herders often now rely on machines made out of none other than steel. They use helicopters and snowmobiles to manage and move their herds and ships to transport them across longer distances. In the modern era, it seems very few can do without iron. How the element wends its way out of the ground and into people's hands remains up to global producers rather than local residents. Determining ways to forge dual-use mining infrastructure seems far-fetched. Yet Kiruna – a town that has reinvented and relocated itself in the process of turning the Earth inside-out – may be one place where such discussions can start.